The penultimate trimester
Its 2017. The start of trimester five. Which is the penultimate trimester. This masters is going so quickly.
This week
Instead of the usual group tutorial, its an artist talk with Nicolas Feldmeyer. Its being live-streamed from the studio in Camberwell (using Google Hangouts), with not only the online and studio-based students but also the 1st years too.
Artist Talk — Nicolas Feldmeyer
Feldmeyer presented five of his projects.
Empty Shop
Empty shop. Small artist run studio and gallery. No budget. Space had ceiling tiles removed. Did some CAD, made a model (has architecture background)… came up with sheets (with cutouts) hanging from the grid. Tunnel effect. Ethereal.
3D rendering
3D rendering. Did during MA at Slade. Slice of light inserted into landscape. MAXWELL render.
He bought the model online (its an aerial photograph)… rendering 20 hours… then printing (outsourced).
A photograph
No photoshop or digital involved. A photograph. Taken in Greenwich park (at the zero meridian).
Balton House
Balton House (in Northamptonshire). A festival there. And an art programme. Huge estate. Wanted to do an installation to react to the scale of the place (but only had a 2K budget). Worked with a light balloon (helium filled, a 500W luminaire; 500m from house; 30m across). Plan from 17th. To work with strong axis. At night, balloon looked like the moon. To make a mark in the landscape.
Police Cell
A small claustrophobic space. In a police station (now an artist studio and gallery). A holding cell. Theme was photography and surveillance. Wanted to create a work that could only be seen when documented. Light-reflective tape, same width as the tile grout. Only shows when photograph with flash taken. Looks like a broken cage.
Fanø
Installation on Island in Denmark (Fanø Vesterhavsbad). Art festival. Straight line of posts creating a gateway to the horizon. Poles follow topography, but painted at the top so consistent. 50m long installation. Only placed for one month. Installation itself took two days (done by professionals). 5K budget.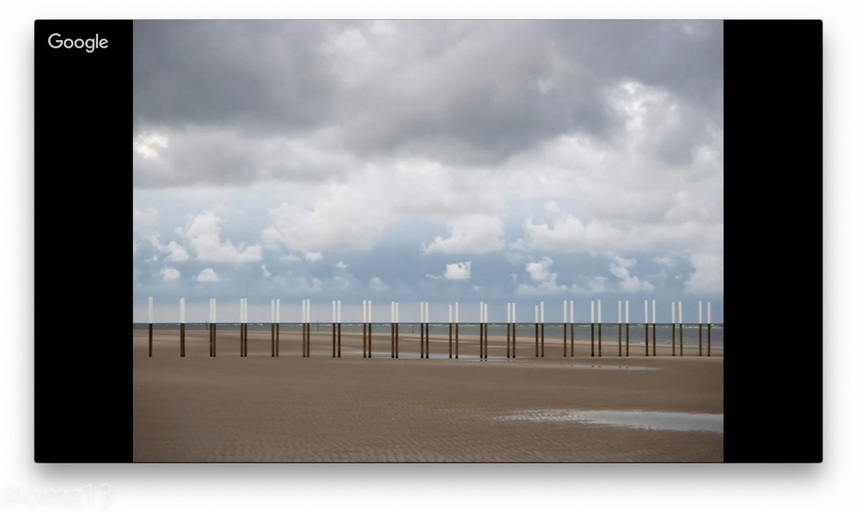 comments powered by

Disqus