This exposition of work by Harun Farocki, at the Fundació Antoni Tàpies, was a set of his films and installations.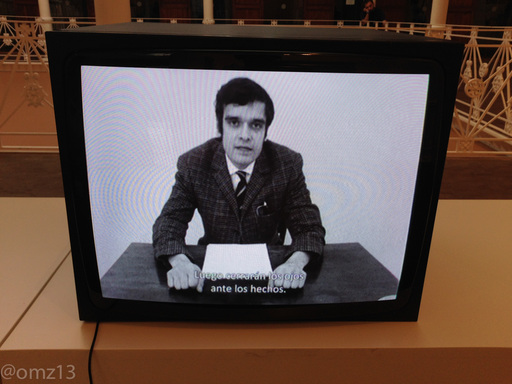 On the first floor, a set of cathode ray displays presenting a set of his films. These were his early militant films from the 1960s. The audio was in German, and there were subtitles in Spanish.
Moving downstairs, a wonderful space, at the physical centre of which were more cathode ray displays showing his films, and around the walls, video projections of more films.
The space here is fantastic. A white cube. But with character. Ironwork supports at their best!
A commentary on surveilance.
I find video art hard. It is a medium that can either work extremely well, or be awful. Of all the pieces shown there was only one that really caught me: the one of a film showing seven bottles: Umgießen Re-pouring. The right-most one was filled with water. Then a robot arm takes it and pours it into the one to the left. This repeats. Each time, some water is spilled, so by the time it gets to the left-most bottle, quite a bit has been spilt. This is then poured into the right-most bottle and it repeats until all the water is spilled some 20 minutes later. Of all the works shown this is the one that appealed the most.
In the sub-basement was Labour in A Single Shot. This was almost missed as it was not obvious that at the back of the ground floor there was a passage leading to the back and the stairwell to this exhibit. Obvious if you are familiar with the space, and easy to miss if not.
I was more interested in this from a technical and curatational perspective. The space was arranged so that the screens were at an angle, and some facing back, forcing the spectator to move into the space to clearly view each screen. To hear the sound associated with each screen you had to stand exactly underneath the video projector as the acoustic envelope was highly-localized.
With the low ceiling height the space felt claustrophobic, particularly when compared to the high ceiling of the preceding space.
comments powered by

Disqus