This exposition of work by Wim Delvoyte was described as:
Since the beginning of his career, which began in the late 1980s, Wim Delvoye has sought to shift the boundaries that traditionally separate popular culture and art, decorative arts and the "fine arts", the old and the contemporary, the noble and the unclean. "In a word, Wim Delvoye creates oxymorons," writes Michel Onfray. His works indeed appear to be shot through with various contrary elements, suspended somewhere between seduction and dissonance.
The MUDAM was 10 years old, and to celebrate they commissioned Delvoyte to produce an exposition. His earlier piece, Chapel is a permanent feature of the MUDAM. For this exposition he took over the first floor, and half of the ground floor.
Monuments is a presentation of a larger than life cement mixing truck and smaller cement mixer, fabricated from water-jet cut steel sheets, and in his familiar chapel-esque style. For me, of more interest were the large-format digital images on the walls; images printed on canvas and affixed to the wall by bolts; a form more traditionally used for industrial advertising than fine art; a form that I have been looking at for my own practice, and great to see in real life.
Who could resist an industrial tyre that's been carved up?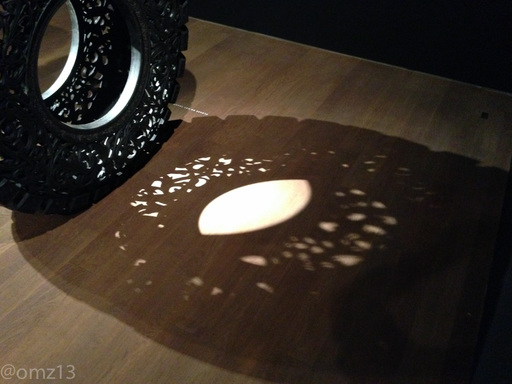 The ground floor had his more controversial pieces, the "Origins".
comments powered by

Disqus